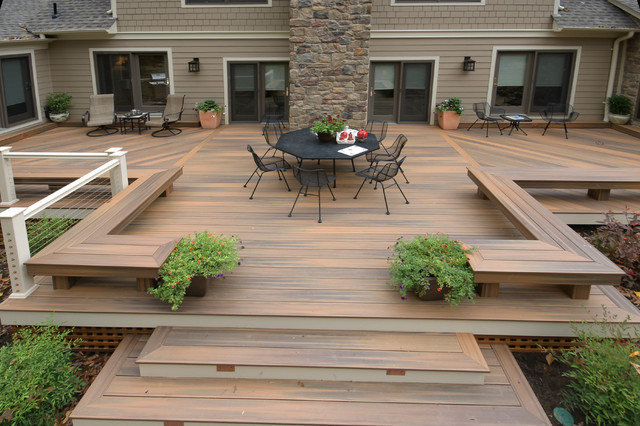 Today, homeowners prefer to expand their living area outdoors, as doing so is more cost effective. Adding a deck is the ideal way to add an extra "room" at an affordable price. You can install a deck that can be used to support an outdoor kitchen, pool surround, private "oasis," or fire pit. Integrating these installations into the design will ensure that you get the most for your money.
A Lower Cost Option
When it comes to timber decking in Brisbane, treated softwood is the lowest-cost choice for the do-it-yourselfer. This type of wood may comprise pine, fir, or spruce wood. Usually the wood is light green in hue because it is treated with a preservative. In many instances, you will see small puncture marks featured on the wood's surface. Naturally, when it comes to benefits, cost causes people to look closely at this decking material.
Do-it-yourselfers like softwood materials, as they are easy to cut and trim, and screw down during an install. Less expensive materials, however, do have certain drawbacks. If you don't routinely apply some type of stain or finish to a softwood deck, it will change to a silver-grey hue. Also, the wood tends to warp, twist, shrink, and develop splinters and cracks. These demarcations typically emerge where the screws have been inserted.
Consider Hardwoods for an Extended Life
If you don't want to deal with some of the drawbacks of softwood materials, you can still consider hardwoods for your deck extension. Some especially dense hardwoods that work well for a deck include ipe (pronounced ee-pay). Ipe wood is especially impressive, as it was used for Fisherman's Wharf in San Francisco in the US. Although the wood is more expensive, its long life offsets the additional cost.
Ipe is also known as ironwood, it does not float in water. Because of the wood's composition, you don't have to worry about it warping, splintering, or developing knots over time. The lovely richness of the brown wood makes deck building both profitable and worthwhile.
Whilst hardwoods are better buys when it comes to longevity and care, you still have to consider that they are also harder to work with. This is especially important to note if you enjoy being a do-it-yourselfer. To make sure that you can handle hardwood decking materials, review the installation requirements first. Many of the woods are cut so the grooves nicely fit into the sides, reducing time of labour.
Choose an Oil Instead of a Stain
When choosing a sealant for decking, it is usually better to use an oil that absorbs and protects the wood from water damage. Don't buy a finish or stain that just coats the wood, whether it is a softwood or hardwood. Any stain has a short life, and even quality stains tend to fade or require more maintenance.