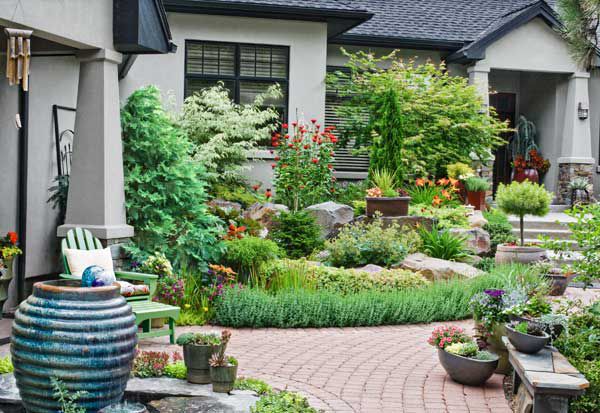 Introduction
The fall season is here and it's the perfect time for planting and transplanting. That also makes this season the perfect time to rethink your landscape. Once you think up a brand-new landscape design, you can hire professionals by searching for "landscape companies near me" to professionally build your backyard, patio, and garden. Let's check out how you can come u-p with a landscape design for all seasons:
The Landscapes
Look at the big picture – Go to your backyard and try to have an overall view of your backyard. Try to identify the flow of your current landscape. Are there bushes, shrubs, and trees that are isolated, or do they flow and work together?
Check out any bare spots in the backyard and the garden. Think about the big picture and notice where your eye goes first. Is that spot aesthetically appealing enough? Do you want it to be the focal point of your backyard? Does the landscaping make your eyes follow a certain path?
Think about your preferences. You may be a modernist who prefers minimal design with clean and straight lines. If you want to stick to a more contemporary design, you may prefer rustic elements with a brick or stone patio. If you want uniformity, you'd want to adhere to a pattern while those who prefer a more organic flow would prefer an asymmetrical design with plenty of curves.
Shape – You need to be aware of shapes when you start planning your landscape for all seasons. Some places do well with tall columnar structures while others look good with round shapes. To make an all-season landscape you need to research evergreen varieties that come in both shapes and require less maintenance in the soil and climate of your region.
Size – As mentioned above, you need to envision the big picture while planning your landscape for all seasons. That's why if you're planting trees, shrubs, and other plants, you need to envision the full-grown structure. Learn about the growth of the plants, their height, and their width upon full maturity. You can also use AR apps like AR landscaper and YARD to get a glimpse of what your property may look like after you execute the landscape changes.
Think about the immediate environment of your property – Consider the features of your existing landscape. Plan out the parts that have hills, that get more sunlight and are prone to more shade. This helps you decide on the plant varieties you want on your property and their ideal location. Consider nearby structures and fencing. If you have any privacy issues, you can add rows of tall perennials or thick foliage screens.
Purpose of the landscape – Your goals for your backyard would also play a major role in your landscape design. Do you want a large deck for organizing and hosting backyard parties? Then you need to do a lot of hardscaping and dedicate a major portion of the backyard for your deck and maybe an outdoor grill and kitchen.
Do you want a large green space to play around with your kids and pets? Then you'd want to maximize turf space. However, it comes with a lot of maintenance and hours behind the mower.
If you want your backyard to be the perfect little relaxation spot, then you may want a small patio with a few pieces of furniture to read your favorite books while you sip on a chilled beverage. You may consider adding a small fountain as well to add calming white noise from trickling water.
If you want to reduce your carbon footprint and add more sustainable features, you may want to dedicate most of the space to garden space and large trees that provide plenty of shade.
Draw inspiration from your house – You want your outdoors to be cohesive with the exterior style of your home. Your house can give you plenty of ideas for landscape design. For instance, a traditional-styled homework well with a variety of landscape plans while a modern home does well with clean lines and simple plantings like ornamental grasses and a few shrubs.
Pathways – By now you may have added plenty of points of interest in your landscape design. It's time to add a pathway to connect those points of interest. To keep things formal, you may choose solid concrete or paver pathways that offer a defined direction.
On the other hand, crushed gravel is a softer alternative while steppingstones give a natural feel to the land. Make sure to space them correctly and add landings every few stones so that you and your guests can stop and enjoy the view.
Lighting – Once the sun goes down, you want to highlight the best features of your landscape with proper outdoor lights. Trees can have a spotlight at the base while gardens with a wider footprint would do well in floodlights. You can also add path lights at the border of your pathway to add soft illumination to your landscape.
Plants – Plants are the most important part of your landscape and one of the easiest ways to achieve a new look. To add color to your landscape the whole season, you need to have plants of different varieties that pull the slack when the rest are done putting on a show.
Research plants that thrive in your local climate and plat with a staggered strategy. For a glorious all-season landscape, you can't have any extreme performers for any particular season. Distribute the beauty across four seasons and plant in such a way that your backyard looks wonderful both in the blooming seasons of spring and summer and doesn't look too dull in the fall and winter.
Conclusion
The adobe mentioned tips should help you to design your landscape for all seasons or at least inspire you to come up with your own plan from scratch. Once you've decided on the landscape plan, you can hire pros to build it for you. To hire a reputed landscaping company, search for "landscape companies near me".