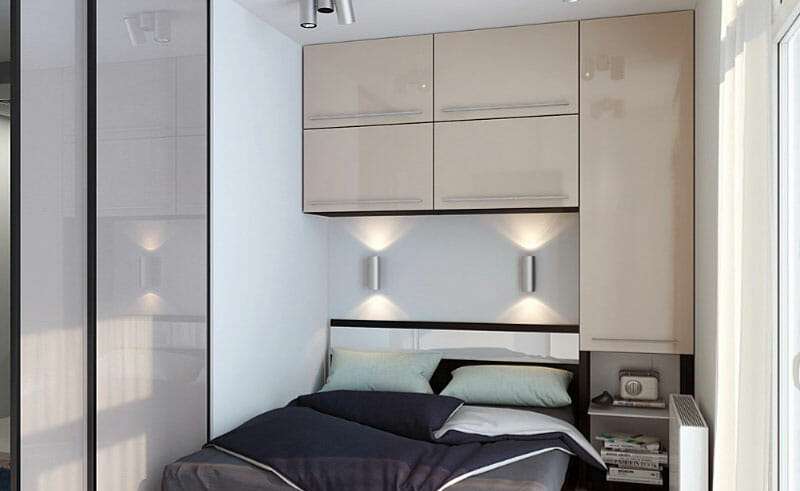 A bedroom does not necessarily have to be very large to appear luxurious. You can create very cosy and elegant designs in small bedrooms as well that will help you to relax. By strategically choosing and positioning your bedroom elements, you can design a very functional and aesthetically appealing bedroom. The items you choose should complement the small bedroom design. You should not opt for furniture pieces that might trip you at night when you get out of bed to go to the washroom. Rather, invest in multifunctional small bedroom furniture. In small spaces, you have to get a little creative with all the elements. Only by placing the right items in the right places, can you create a functional and appealing bedroom design. If you are not sure how to design the perfect small bedroom, here are a few small tips:
01 of 06 Decide how you want to use the room
In a small bedroom design, you have to make the most of the available space. You can only do so after deciding how you plan to use the space. Besides sleeping, you can use a bedroom for various other purposes. For instance, you can use it as a home office when required or just a reading place. In such a scenario, you have to get a little creative with your bedroom layout and make sure that all necessary items can be accommodated. Placing a desk right next to the bed so that it can be used as a workstation and bedside table is a common trick used by many people.
02 of 06 Choose sleek bedroom furniture pieces
While decorating a small bedroom design, you must always opt for small bedroom furniture pieces that have a lighter visual weight. Choose small and sleek furniture pieces that do not occupy a lot of space. For instance, sleep on a single bed if a king-size or queen-size bed is not required. This will free up more floor space and make the room appear larger. Also, choose furniture pieces that feature clean lines to create the illusion of a larger space. Opting for floating shelves or other small bedroom furniture pieces for storage is a smart trick to create storage without sacrificing floor space.
03 of 06 Create a focal point in your bedroom
Most experts suggest creating a focal point in your small bedroom design. This will help to establish a more unified interior design. As a result, the interiors will not appear jumbled. The headboard of the bed is one of the best focal points in your bedroom. You can add to the visual interest by arranging the pillows properly on the bed and hanging artwork above the headboard on your wall. This will further highlight your focal point. Your bedroom windows can be the focal point as well. By placing the bed in front of the window and combining both the focal points, you can create a very appealing small bedroom design.
04 of 06 Always hang mirrors in your small bedroom
Mirrors are one of the best solutions for small spaces. You must always hang a mirror in your bedroom. The reflection on the mirror creates the illusion of a larger space. Hence, the space appears bigger than it is. Further, a mirror reflects lights and helps to keep the interiors well-lit. Depending on your preferences, you can either opt for a large mirror or lots of small ones. Using lots of small mirrors and hanging them in groups will allow you to create a beautiful wall gallery. Make sure you choose ornate framed mirrors of different sizes, shapes, and colours for creating an interesting look.
05 of 06 Make sure your small bedroom is well-lit at all times
Lighting plays a very crucial part in small bedrooms. You must ensure it is well-lit at all times. Only artificial lighting is not sufficient for lighting up your bedroom. Allowing natural light to enter indoors is essential as well. Choose windows that feature large glass panes so that plenty of light can enter. Also, choose light and airy drapes instead of opting for heavy options. Install accent lighting to enliven its visual appeal. A dimmer can prove to be quite useful in your bedroom.
06 of 06 Opt for smart storage options
Your bedroom requires plenty of storage so that you can store all your bedroom essentials. Creating sufficient storage space in a small bedroom design can be difficult. You have to come up with a few smart storage ideas for your bedroom. They do not have to be very complex. Something as simple as using small baskets and boxes to store your blankets, pillows, etc. can work. Besides that, you can buy multi-functional furniture pieces that offer storage. For instance, buying a bed that comes with drawers.