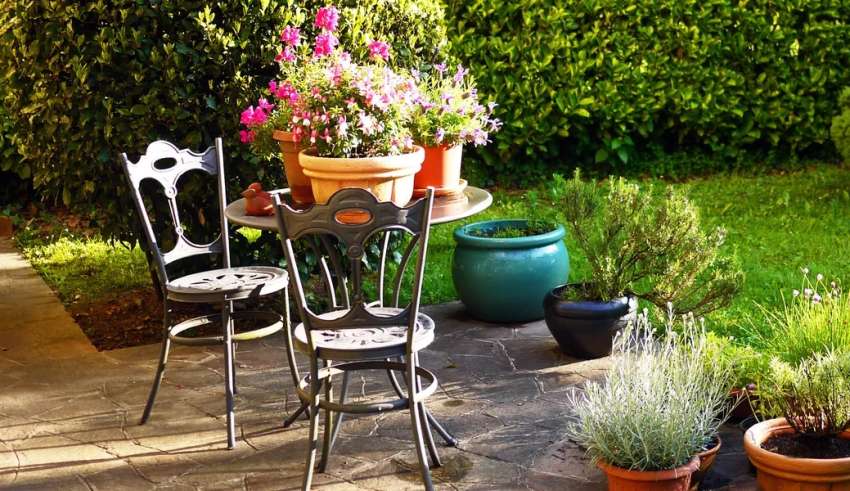 As the days lengthen and the temperatures rise, extending our living spaces to the outside of our homes becomes increasingly desirable.
Granted, you're unlikely to want to set up a 50-inch TV screen to sit and watch Netflix in your garden. But having somewhere to sit, relax and soak up the sun that feels just as welcoming and comfortable as their living room is high on many people's priority list.
Let's face it, we've all spent a lot of time indoors over the winter months. Getting out in the fresh air and sunshine is good for mind, body and soul. Making your garden into an inviting space also extends your options for entertaining. There's nothing quite like having friends and family round for a BBQ on a hot weekend afternoon, or hosting guests for an evening garden drinks soiree.
In our experience, when people admit to not using their gardens as much as they should do or would even like to, two recurring reasons come up – not having the time to keep their garden in a respectable state, but also not having the right furniture to make their outdoor space comfortable and inviting. If you haven't got anywhere to sit, you're obviously going to be more reluctant about enjoying your garden.
The right garden furniture can totally transform the outside of your home. It can give you a reason to get outside and enjoy your garden, and from there gain all the other benefits of being outside.
Here are three pieces we recommend for giving your garden a brand new lease of life.
Garden dining set
For many people, the dining table is still the focus of family life inside their home. Sitting around the table to have a meal together is a daily ritual which brings the family together, allowing them time and space to discuss their days and make plans.
Dining tables also play a central role if you enjoy hosting dinner parties or having family and friends round for celebratory meals over major holidays. They are also very versatile pieces of furniture. They double up as places to play games, for kids to do their homework – and as so many of us have experienced over the past two years, they can even become temporary home offices.
All of the above can apply outdoors as well as inside your home. Garden table and chair sets provide a focal point for your garden. Whether it's family meals, entertaining or having a change of scenery while you work, a garden dining set gives you a reason to get outside.
The amount of choice available makes garden tables and chair sets very versatile. You can opt for grand statement sets in materials like teak or polished concrete that have an air of permanence about them, and are perfect for entertaining. Or if your space is more limited, or you don't want a piece of furniture dominating your lawn or patio, you can opt for more slimline cafe-style round tables that tuck neatly out of the way and are easy to move around.
Garden sofa sets
Garden sofas are perhaps the ultimate crossover from indoors and outdoors. We all associate sofas with living rooms or lounges. But rather than being intrinsically tied to one particular room (and with watching TV), the purpose of a sofa is actually quite straightforward – to provide the most comfortable seating possible.
Why wouldn't you want to enjoy that outdoors as well as in?
Garden sofas tend to deviate in style from their indoor cousins, largely because of the need to remove cushions when not in use to protect the fabric from the elements. Large timber bases in a weather resistant hardwood like teak are popular. It means you can at least leave the base out all year round and only have to think about storing the cushions.
Alternatively, wicker sofas are easier to move around to follow the sun.
Kadai fire bowls
Finally, we all know that the British weather is difficult to trust even at the height of summer. If the wind happens to pick up from the wrong direction, even the most pleasant of summer days can turn cool in the evening. Having a heat source in your garden is a great way not only to extend the time you can sit comfortably outdoors on chilly evenings, but also extend the time period or time you use your garden from earlier in the spring to later in the autumn.
Authentic Indian Kadai fire bowls serve a dual purpose. They are an excellent option for lighting a fire as temperatures dip. But they also come with a whole range of cooking accessories, a reminder of their original purpose as a cooking stove. With a Kadai, you can keep the home fires glowing outdoors, and scale up your BBQ capabilities.