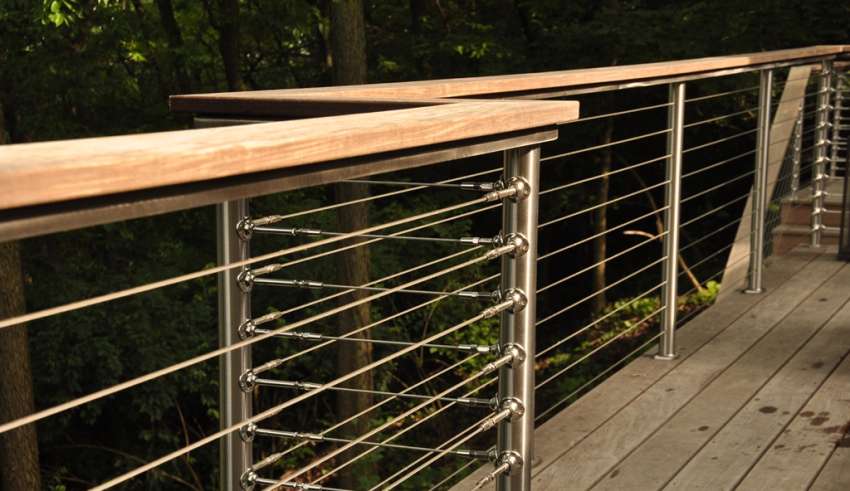 Your house has a fantastic view, which is probably one of the reasons you bought it. But what happens when you take your favorite beverage outside to enjoy it on your deck? Once you've taken a seat, you'll find yourself staring at your railing pickets or the dirty glass you'd relatively not clean.
Unlike typical picket or glass railings, a Cable deck railing provides a far more viewer-friendly solution to this problem. In addition, cables thinner than wood pickets give a larger viewing area with practically uninterrupted views. You are probably wondering what cable railings are? Cable railings are guards and handrails using horizontal cables in place of standard spindles, glass, mesh, and other infill materials. They do not require much upkeep as traditional wood and metal railings.
Uses of Cable Railings
In both commercial and residential contexts, cable railing is becoming increasingly popular. Cable railing systems are designed to provide professional results while still being user-friendly.
Cable railings are a low-maintenance, cost-effective alternative to wood and metal railings. Guardrails and handrails are both made of cable railings. Instead of standard infills like spindles or mesh, horizontal cables are used. Commercial cable railing has numerous advantages.
Cable railings, for starters, are a safer alternative to standard metal and wood railings. Cable railings are made of sturdy and long-lasting materials. As a result, the rail systems are structurally sound. Second, a cable fence is stylish and goes well with various home styles. It looks great in both modern and classic settings. Finally, the railings are very simple to build and maintain. All you need is frequent cleaning and wrenching to maintain your cable railing tight.
The following are some commercial uses of cable railings;
Complement your interior design
From rustic to classic to contemporary, most architectural styles are compatible with cable railing. So if you're having trouble coming up with a railing system that matches your architecture, consider cable railing.
It's simple to install and may be used with existing metal, wood, or composite railings to create the look you want. Many individuals, for example, believe that concrete slabs and wooden bars do not mix well. On concrete platforms, cable fences are ideal. On concrete surfaces, stainless steel wire railings can produce a stylish aesthetic.
Make progress with your open-plan office projects.
Open-plan office ideas can benefit from cable railings. The open space of a modern office design encourages teamwork. Modern, open-plan offices use obstruction-free areas rather than solid barriers that employees can't see through. Transparent glass barriers also allow staff to collaborate on projects, increasing efficiency.
The "see-between-the-lines" quality of wire fences gives enormous offices a sensation of openness. Traditional railings divide places.
Set a boundary around your business.
A cable railing is an attractive choice for delineating the borders of your commercial property. Glass railings provide beauty, while solid walls offer security. On the other hand, concrete walls restrict the property's view, perhaps excluding many potential buyers.
On the other side, glass railings are costly and time-consuming to construct and maintain. The ideal compromise is cable railing. You get a secure structure that's easy to build and support and a see-through railing system that allows guests to recognize your gorgeous offices from afar.
Indoor and outdoor environments are naturally connected.
Cable railing's sleek, streamlined appearance allows spaces to effortlessly flow into one another, creating a continuous flow that is impossible to achieve with other types of rail infill. As a result, a wire railing is ideal for framing a stunning panoramic vista.
Cable railings, for example, are ideal for a patio since they maximize the view. This is especially crucial for brands that want to make an impression right as a customer enters. Indoors, the railings can have a similar impact. Instead of visibly dividing rooms, cable railing serves to connect them.
Reasons for Choosing Cable Railing Systems for your Home
One of the most important decisions you'll have to make, whether to build a home or renovate your deck, porch, or balcony, is which type of railing to choose. Traditional wood or metal railings are popular among homeowners, and you might be considering them as well. But what if you have a view you want to preserve uninterrupted, or if you want something unique and modern? Glass is a possibility, but the new glass is cable. The cable railing is functional, easy to build, maintain, and virtually undetectable.
Easy to Care for
The low-maintenance components of cable railing, unlike other railing options, make it a good investment for any homeowner trying to keep costs down after the installation. Tensioning devices are used to keep the cables taut. As a result, if you ever need to tighten it, a couple of simple wrenches will suffice.
Cable Railing with High Structural Strength
The cable railing system is made of 316 stainless steel, which is extremely strong and nearly indestructible. When exposed to sea air, precipitation, and sunlight, the material utilized is corrosion resistant and not deteriorate. Thanks to the weather-resistant element, it may be used in any location, including harsh sea environments. A cable railing is the most critical choice available with the infill cable, with a load capacity of 2,900 pounds, depending on the type of post and rails you employ. Cable railings are meant to survive as long as they are correctly installed and maintained, making them suitable for homeowners seeking long-term solutions.
Offer Views Without Obstructions
The cable railing is lovely to look at and to look through. Because the lines are practically invisible, the cable railing provides unmatched views. They appear to disappear into the view from the deck or balcony. Cable railings are distinguished from other materials by their elegant, sleek appearance. Glass, in particular, provides a similar benefit but is susceptible to filth buildup, water spots, and fogging. Cable railings allow you to enjoy a gorgeous view from your home without interruption. This is ideal for balconies, terraces, and high decks.
In conclusion, Cable railings provide a guaranteed style to wow in many residential and business settings. It's critical to get materials that have been independently evaluated if you want the best results. And they're available for purchase at reputable hardware stores and lumberyards.