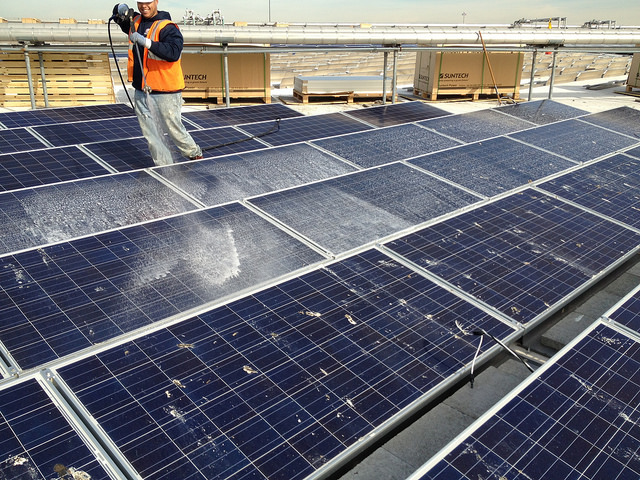 In today's time, the majority of people all around the world choose to rely on electricity as their main source of power. However, this has a habit of leaving a massive carbon footprint behind. When staying environmentally conscious is such an important part of today's time, it is even more crucial that people think of ways that they can reduce the size of their carbon footprint. One of the most efficient ways to do this, especially if you live in an area that gets a massive amount of sunlight, is to rely on solar power as a source of energy. However, over time, solar panels will become dirty. This will reduce the amount of solar power that is collected by those solar panels. Thankfully, there are services that will be more than happy to clean off your solar panels for you.
More often than not, people will choose to put their solar panels on top of their house. While this is incredibly efficient when it comes to collecting solar power, it makes it a little more difficult to easily clean off the solar panels. Unless you have a flat roof and you have the equipment necessary to properly clean off your solar panels, it is often a good idea to leave the solar panel cleaning in Perth in the hands of a specialised professional. These professionals not only have the equipment needed to get your solar panels clean, but they also have the experience necessary to get the job done safely. Choosing to rely on professionals is one of the best things you can do when you need your solar panels cleaned.
How Can a Professional Help You Out?
Solar panels can be around 7.5% less effective when they are dirty, even more so depending on the amount of dirt and grime that has collected on the solar panel. Professionals who specialise in cleaning solar panels understand this. This means that they will work with you and your solar panels to ensure that by the time they leave, your solar panels will be far more efficient and cleaner than they were before. In fact, these professionals will often make an extra effort to make sure that when they are cleaning out your solar panels that they abide by the manufacturer's cleaning guidelines so that the warranty on the solar panels is not voided. Whether your solar panels are in a hard-to-reach position on your roof or the roof of your building is several storeys above the ground, professionals will be able to get your solar panels clean. Before you know it, your solar panels will be looking and functioning as if they were fresh from the factory.
Why Should You Rely on Professionals?
Whenever you are working on something that is as important to your house as your solar panels, you should rely on the expertise and the experience of trained professionals when it comes to cleaning them. Nobody wants to realise that they have severely damaged their solar panels by cleaning them with a strong formula, as this can easily cost hundreds or even thousands in repairs, depending on how bad the damage is. On the other hand, when you choose to work with a team of professionals who specialise in cleaning off solar panels, you can rest assured that that your solar panels are in the hands of people who care.