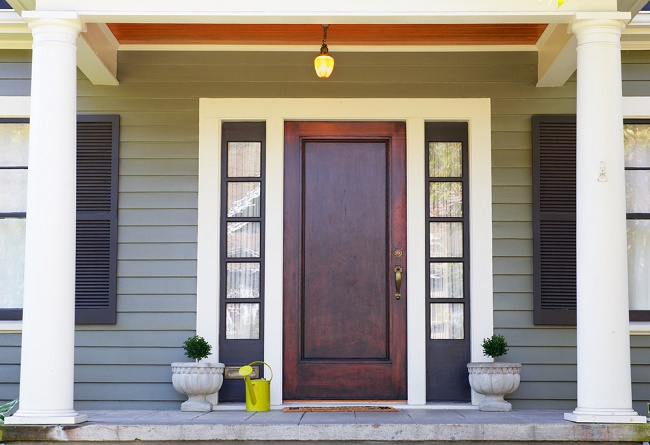 How many homes are safe from property crime in the United States? The answer may surprise you. In fact, the front door can be one of our greatest vulnerabilities when it comes to protecting yourself and loved ones from intruders looking for an opportunity of entry into your home. Theft deterrents like security doors will do much more than deter thieves. Not only will they provide peace-of mind, but they also have other benefits to them, this article provides information on some of the many benefits of security screen doors.
Security screens provide an extra layer of protection for your home. Premium security screens are an investment in your safety and peace of mind. Made with stainless steel mesh they provide enhanced protection for you home, and the reinforced 316 grade steel can't be cut or pried open. These security screens also come equipped with non-removable hinges to guarantee the security of your home or commercial establishment. An increased level of security in your home will significantly reduce the chances of your home being targeted by thieves because the security mesh cannot be cut or pried open.
Another important advantage of installing a security screen door in your home is that it can block more than 60% of harmful UV rays. UV rays can be harmful to your skin and lead to skin cancers in the long run. Preventing harmful UV rays from entering your home is crucial to the overall health and well-being of you and your loved ones. High-quality security screen doors are tested and certified to block out 60% of harmful UV rays, which means they can keep your home about 5 degrees cooler on average and prevent the air conditioner from continuously operating. It helps reduce energy costs and prolong the lifespan of your HVAC unit.
Security screen doors are quite popular because of their ability to guarantee your privacy. In fact, the angle and thickness of the steel mesh make it difficult for any passers-by to see inside the property. The mesh screen works like a two-way mirror that helps you get an uninterrupted view of the outside while preventing outsiders from seeing inside the house. You can design the security mesh to increase or reduce the level of privacy depending on your personal preferences.
You can't have mosquitoes and other critters in your house during the hot season. That is why you need security screens to help keep a balance between allowing fresh air inside while keeping insects away, which are common June-August months.. On one side it has stainless steel mesh panels perfect for letting just the right amount of sunshine into home while on the otherside they've are sealed around the frames keeping leaves, sand and dust out of the inside of your property.
Natural light and ventilation are important to maintain the overall health and well-being of your loved ones. Most homeowners are afraid to leave their doors open in summer due to the high crime rates in the area. Security screen doors are different. In fact, you can leave the doors open and let in natural light and ventilation without any fear when security screens are attached to the doors. The wire mesh design of the security screen allows for better ventilation in your home. Fresh air plays a crucial role inside the house to prevent the growth of mold and mildew and remove stale air from the environment. Security screen doors let your family breathe in fresh air without jeopardizing security.
Security screen doors are a great way to add value to your property. You can get a better ROI when selling the house with a security screen door. In fact, the latest security screen doors can be custom-made to suit the architecture and color scheme of your home. They help increase the curb appeal of your property. If you plan to sell the house in the near future, you should consider investing in security screen doors and windows for your home without delay.
Where to Purchase Security Screen Doors
When it comes to your security screen door and window needs, you want the best service provider for all of them. We at Security Plus Las Vegas are proud partners with Meshtec – one such supplier in this industry who can provide premium products that will keep both intruders out as well as prevent any damage from occurring due external factors like wind or temperature change!